Connect Lightspeed Retail and WooCommerce – No Setup Fees!
Integrate Lightspeed Retail and WooCommerce to manage sales, inventory and customer data in a single location. Sell in more places and save time by managing your online and brick-and-mortar stores as one.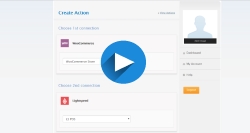 Watch video on connecting LightSpeed to WooCommerce
Features
Automatically list products from Lightspeed Retail in WooCommerce.
Automatically sync inventory levels between Lightspeed and WooCommerce.
Automatically transfer sales and customer data from WooCommerce to Lightspeed Retail point of sale.
Manage product lists, prices, inventory, sales and customer data from your online stores in Lightspeed Retail.
Automatically sync sales, inventory and customer data across multiple online and brick-and-mortar stores.
Benefits
Sell more products in more places. List products on WooCommerce in minutes.
Quantities are updated automatically to prevent overselling and stock outs.
Improve customer satisfaction. Fulfill orders faster and more accurately by automatically transferring sales data.
Eliminate double data entry. Save time by managing data from your online and brick-and-mortar stores in one place.
Keep track of sales and inventory across all channels. Enable features like in-store pickup and multi-location inventory.
Kosmos eSync
Let our integration software connect Lightspeed and WooCommerce to improve sales and reduce data entry costs.

About Lightspeed Retail
More than just a point of sale, Lightspeed Retail offers a simple way to build, manage and grow your retail business.
About WooCommerce
The most customizable ecommerce platform for building your online store. Sell online with the world's fastest growing ecommerce platform.
Bob's Red Mill
"The time savings and accuracy of the integration is substantial. We import around 100 orders per day automatically, easing tension in the customer service department as all orders are now processed correctly the first time."
—Bryan Emerson, Bob's Red Mill
Phil-Am Food
"Working with Kosmos has been great. Our stores' inventory levels now update automatically so there is a lower chance that an item is out of stock. This is important since the supermarket and web store share the same inventory."
—Erwin Santos, Phil-Am Food
Portland Children's Museum
"Prior to the integration we had several staff managing data. Following implementation we were able to sell out three months of camps and classes in two weeks with nominal staff resources. We look forward to optimizing the software's potential to support future growth."
—Christine Hinrichs, Portland Children's Museum
McCoy Motorsports
"Kosmos integrated the data from our web store with our in-house software system and they truly hit a home run. When our store gets 100s of orders a day it is critical to receive top-level support for our software. We are extremely satisfied and give Kosmos a 5-star rating."
—Shane McCoy, McCoy Motorsports
53 Degrees North
"The integration allowed us to seamlessly sell our entire retail inventory on our web store, giving us full control over each individual item and allowing us to display our product data any way we want."
—Rossa Butler, 53 Degrees North