RMS Ecommerce Integration
Software Overview

Kosmos Central's RMS ecommerce integration automatically enters product listings and inventory from your retail management system (RMS) into multiple online stores and marketplaces, and automatically sends online order details and customer data to Microsoft Dynamics RMS.
Kosmos eSync – RMS Ecommerce Integration: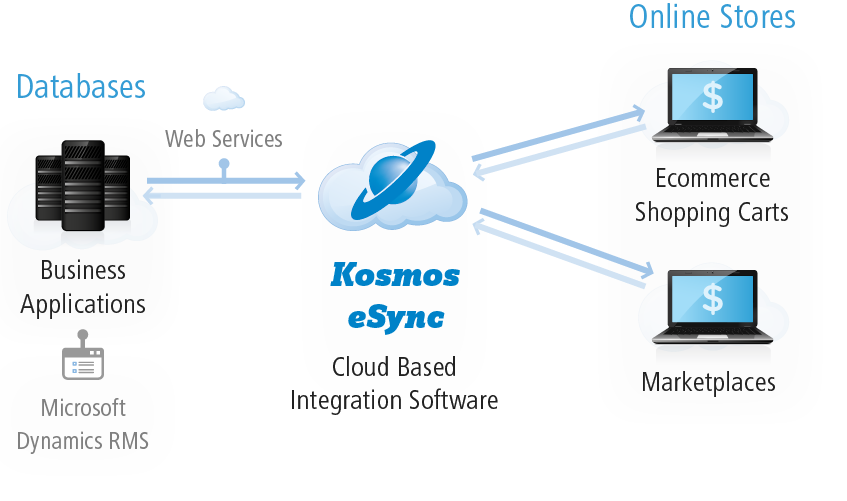 Kosmos eSync is integration software for connecting applications.
Automate tasks and move data between your online stores, eBay, Amazon and Microsoft Dynamics RMS and control how the integration transfers and updates data to meet your needs.
The integration automatically syncs product listings, inventory, orders, customers and more between Microsoft Dynamics RMS, eBay, Amazon and your online stores using web services or APIs.
Microsoft Dynamics RMS Integrations:
Supported Applications:
POS Systems:
• Microsoft Dynamics RMS 2.0
• Microsoft Dynamics RMS HQ
Ecommerce Shopping Carts (Online Stores):
• X-Cart Classic
• Magento
• BrilliantRetail
If a system is not listed above you can use eSync to integrate with new applications using web services or APIs.
Web services and APIs allow you to automate tasks and move data to new online stores and applications, and can be created by our team to meet your needs now and as you grow.